Wazirpur Industrial Area is a part of Delhi that modernisation forgot. Even in harsh, dry heat, there are sludgy roils of sticky mud on the sides of the unfinished road where the earth has been dug up and forgotten, wearing a toxic metallic sheen. The buildings are crumbling, and on one corner three men stand, smoking, staring at the wet patch a foot away where a pipe is emptying a steady flow of refuse onto the street. There should be a drain there, but no one has thought to build one. After all, Wazirpur is an area of industry: of sprawling steel factories, of clouds of black dust, of migrant workers and the slums they live in. It is not a place for humans – that is, humans with enough money to have an alternative. They live a few hundred metres away, in Shalimar Bagh, a suburb first developed by the Mughals as a beautiful garden with fountains and proper drainage. The contrast could not be bleaker.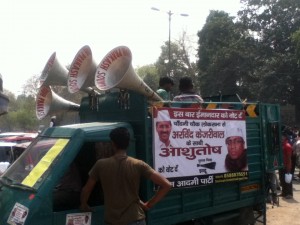 But the people of Wazirpur vote, so, for just a handful of days every five years, are treated to visits by electioneering candidates. It falls into the constituency of Chandni Chowk, which this election is being contested by the Aam Aadmi Party for the first time. The party's candidate is Ashutosh, a former high-profile television journalist who dropped his surname many years ago out of solidarity with low castes – that way, no one would know which caste he was born in to.
I spent half a day trailing Ashutosh on the campaign trail in Wazirpur. I arrived to see him standing in front of a crowd of a few hundred locals: it was their weekly day off from the factories yet many were sweat-soaked and covered in soot. All were men. Volunteers were handing out the AAP topis, little white peaked caps that the party has cleverly harnessed as one of its motifs, as it is headgear worn at the village level, thereby tying in with its 'common man' ethos.
I'd been promised an interview with Ashutosh but after his speech he disappeared into the crowd, and so I was invited aboard one of the campaign jeeps by some of his volunteer campaign staff. As it turned out, the jeep was the same one used by party leader Arvind Kejriwal to conduct his drive-by campaigning. We drove through a slum area adjacent to the factory strip; here is where workers have settled, often along with their families. And it is dire: concrete blocks for homes, swarms of flies, unpaved roads, men selling vegetables from sacks hanging from donkeys' backs, dirt and filth everywhere. I've been in numerous slums and it never fails to shock me just how rancid the air is, how little electricity and water they have access to.
The volunteer driving the jeep shook his head sadly, pointing out signposts of extreme poverty as we drove along. Kapil Bhardwaj, a small business owner, has put his income generating work on hold while he supports the campaign, seeing it as one of the best ways to effect actual change in India's fractured governance. "You know how often the local member actually visits here? Just once," said Kapil. People kept approaching the vehicle, wanting to shout their support or offer a warning essentially not to screw things up. Through the bleakness there was a glimmer of hope that perhaps, these guys might just be the ones who are able to cut through and deliver them a more dignified life.
But the shadow of AAP's truncated reign in Delhi looms large; in fact, another journalist on their tail tells me that questions about why the party aborted its leadership there after just 49 days have peppered candidates throughout; even in Varanasi, when Kejriwal travelled there to announce his candidacy, that was what locals wanted to talk about. Party members and volunteers might treat Kejriwal and other party bigwigs as local heroes, but voters aren't quite there yet.
The following week, I tried again for Ashutosh: this time, his campaign convoy was departing from Turkmen Gate, one of the medieval gates leading into the cloistered gullies of Old Delhi, at 10am. By 11am Ashutosh still hadn't arrived, however one of AAP's big names, former journalist Manish Sisodia had, and I snuck into his car for a quick one-on-one, an attempt to muffle the eardrum-splitting chants from the loudspeaker rigged up onto a three-wheel truck nearby. He managed to distill AAP's central message, of anti-corruption and devolution of power, succinctly for me, in just a few minutes. So just who is it that AAP is targeting? "It's the common man, the person who is driving the car, the driver, or the owner of the car. It could be the person selling chola kulcha on the street, or the person eating the chola kulcha. Whether he's coming from a bicycle or from a big city it doesn't matter."
After that, Ashutosh turned up, mounted his jeep along with about eight other people crammed on, clown car style, and off they took, down  Jawaharlal Nehru Marg, followed by volunteers and supporters in cars and autos. Myself and about five other journalists had no choice but to follow on foot on the busy road, ducking and weaving between vehicles and the occasional herd of goats.
It wasn't a good campaign day for Ashutosh, with only a handful of supporters emerging from their homes and buildings to greet him, so perhaps he was grumpy after a couple of hours of standing on a moving jeep and waving. He stopped at an intersection and spoke to the Hindi language journalists, but one of his men batted away my request, saying I could get something after two and a half hours. I'd already put in about three hours of jeep-chasing, and even though I still wanted a third voice for my package I'd had enough, so watched as the convoy steered into Minto Road and disappeared. Shortly after however, I struck gold: I found a rickshaw driver who spoke a bit of English (*very difficult) and had strong views on politics: a far better "get", even if I did fail to interview the man I'd doggedly chased through the streets of central Delhi for hours.